Bringing Back The "Bash And Bomb"
May 11th, 2020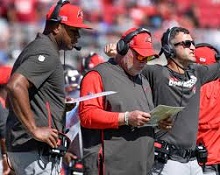 Some think Bucco Bruce Arians doesn't want to run the ball much and he believes handoffs are just something you do in between long passes.
Arians strongly disagrees, so he detailed last week.
They heyday of Arians' offense in Arizona was in 2015. The Cardinals ranked ninth in rush attempts, eighth in rushing yards and sixth in touchdowns. It was awesome run production considering they had a starting QB who averaged 1.5 yards per game on the ground.
In the desert it was known by some as the "bash and bomb" offense.
Arians was asked last week on KMVP radio whether pounding the rock and airing it out when he's not is something he can get back to with Tom Brady.
"I think more so than ever," Arians said. "I think being able to do maybe some more check-with-me runs, and get us in the right runs. [Brady] did a great job his last three or four years, he did a great job with the same style of play-action that we've used, you know, finding the deep crossing routes and balls down the field, things that he can do. And he's still a really good play-action quarterback."
It's not the first time Arians (or his son) has talked about the big Brady impact coming to the running game.
Joe can't wait to see it.