Jake Arians Talks Soaring Leftwich Stock, Brady Energized By No-Risk-It-No-Biscuit, And The Jameis Blame Game
March 22nd, 2020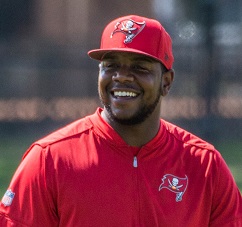 Bucco Bruce Arians' son Jake works in the media and had a cup of coffee with the Buffalo Bills as a player years ago.
And Jake Arians was talking about the biggest move in sports last week on his fantasy football podcast on TheDraftNetwork.com.
A few interesting Tom Brady/Bucs nuggets from the younger Arians:
Co-host Jaime Eisner made a point that Brady's presence will elevate the status of Bucs assistant coaches and particularly Byron Leftwich. Eisner said he believes Leftwich will skyrocket and likely be a head coach this time nest year. Arians wholeheartedly agreed and said Brady himself also should be elevated by working for his dad.
"Tom Brady gets to go play for a head coach that has now put 'No Risk It, No Biscuit' on the building," Jake Arians said. "They blitz more than anybody. They're bringing it on defense. They're going to take their shots, and he's never really gotten to play like that.

"It's all going to be on him. 'Tom, what plays do you want to run? What do you like? Here's how we want to do it. But we're going to take our shots. We're not trying to go down and kick a field goal and tie this thing. Let's go score a damn touchdown and win.

"He hasn't really had that kind of like, 'Hey, hell no, No. 12. Get back out there and go win this son of a bitch. It's on you.' I think he's going to eat that up. I'm expecting the best Tom Brady we've seen in a long time."
Arians went on to say the Bucs have improved instantly because of the smarts of their quarterback, noting "how much better they're going to be because of the line of scrimmage checks."
And he further jumped on what Joe calls the Jameis Blame Game.
The Bucs will be running the ball better instantly, Arians said, because Brady will recognize defenses better and check to runs that will be successful.
"All the fans think, they were 7-9, they all think they should have [had] 10 or 11 wins. Right?" Arians said. "Now, ok. We're going to take those 30 interceptions away. We're going to take a bunch of fumbles away. We're going to be in a better play. We'll be better at the line of scrimmage. The defense is going to be better a year later. And Tom Brady's the one pulling the trigger. I don't know how you can't be overly excited about the whole thing."
So Bucs fans think the team should have had 10 or 11 wins? Joe can't go there and neither should most fans.
It's football. You are what your record says you are for many, many reasons. If you play those hypothetical games to that extent, then you're just cheating yourself. The Bucs defense essentially was painful to watch until the final six games. That's not the mark of an 11-win team.
Joe certainly agrees that the Bucs upgraded at quarterback. What it exactly translates to in the win column is hard to pin down in March.
With the new playoff format, 10 wins is just about guaranteed to get a team in the playoffs. So Joe will say anything less than 10 wins with Brady will be a major disappointment.