"Expect Him To Become A Star"
May 10th, 2020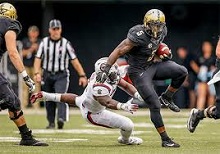 Former Jets and Crimson Tide quarterback Greg McElroy is a student of the SEC and loves what he sees on the Buccaneers roster.
His happiness revolves around one player he adored entering the NFL Draft: running back Ke'Shawn Vaughn, the Buccaneers' third-round pick out of Vanderbilt.
Gators fans won't like it, but you can watch McElroy, who works for SEC Network, break down his respect for Vaughn in the video linked here.
He says Vaughn is the undervalued prospect out of the SEC and was held back by poor talent around him.
"I think he's really going to blossom when put into an NFL system," McElroy said. "I'm a huge believer in his ability, and I think last year he wasn't surrounded by a real good supporting cast. And when he gets that opportunity in the NFL, expect him to become a star. I really believe he's going to be a great value pick for somebody, maybe third round, fourth round."
Joe literally will scream with ecstasy if the Bucs actually nailed a quick-impact running back in the draft. We got flashes of that in 2013 with Mike James before his unfortunate injury, and we got it big-time with Doug Martin in 2012, so it's been awhile.