Tristan Wirfs Talks Zoom Call With The Bucs, Blocking For Tom Brady
April 4th, 2020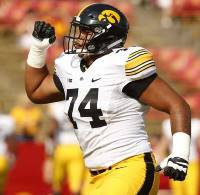 Bucs fans proved they are aching for Tampa Bay to draft an offensive lineman in Round 1.
And a guy many want was talking about that happening yesterday.
He is Tristan Wirfs, the strongman, 6-5, 320-pound athletic freak out of the University of Iowa. He mostly played right tackle at Iowa and that's where the Bucs need him.
Wirfs, 21, joined The Rich Eisen Show yesterday and talked about how he's had a few phone calls with teams (no visits during the plague), but for one select club he's already had a Zoom video call.
The Zoom team is the Bucs. Wirfs said it was with two O-line guys (presumably assistant coaches Harold Goodwin and Joe Gilbert) and the offensive coordinator.
"We're held to a higher standard," Wirfs said of himself and his fellow Iowa offensive linemen.
That was sentiment Hall of Fame general manager Bill Polian shared on SiriusXM NFL Radio this week, saying Wirfs won't be coached better in the NFL than he was in college.
Protecting Tom Brady is a crazy thought, Wirfs thought, noting he was born in 1999 and Brady joined the Patriots in 2000.
Is Operation Sign Brady followed by Operation Protect Brady via the NFL Draft? We'll find out in less than three weeks.