Tom Brady Tells A Chris Godwin Story
April 25th, 2020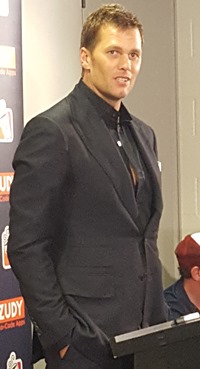 Joe's going to take a break here from the riveting and exciting Day 3 of the NFL Draft and serve up a fresh take from The GOAT, new Bucs quarterback Tom Brady.
We've heard about how Chris Godwin offered his jersey No. 12 to Brady no questions asked, no ransom demanded.
But what's the real story?
Brady served up insight on that during a live chat with NFL.com. He strongly implied that he paid Godwin for the jersey number, but not before Godwin impressed the hell out of him.
"You know what I love about Chris, he called me up and one of the best things he ever said, 'You know what, Tom, if I was ever in your position and a younger player had it, I would want them to give it to me,'" Brady said. "That shows you the kind of maturity a going-into-the-fourth-year player has. That tells me what kind of person he is, what kind of teammate he is. And I was very, very impressed by that."
Very cool stuff. Brady's tone really screamed that he's fallen hard for the new No. 14.