"This Is A Playoff Team"
April 10th, 2020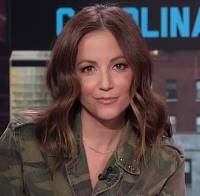 The gang of "Good Morning Football" is stoked.
After being off the air because of the [national advertisers don't like that word] for a few weeks, the popular weekday morning show on NFL Network returned this week and the co-hosts (It Girl Kay Adams, closet Bucs fan Peter Schrager and former TV reality star, soap opera star and Ivy League running back Kyle Brandt) couldn't calm down because they are so excited about the Bucs' new jerseys.
Some ex-Bucs that got shout outs from the crew were Shaun King, one of three quarterbacks to lead the Bucs to an NFC title game, and Errict Rhett.
Hey, the threesome also discussed football. Brandt said he's ready to see the Bucs play meaningful games in January and Schrager had a matter-of-fact claim.
"This is a playoff team."
You can see the segment below.
New QB✔️New Look✔️

The @gmfb crew gets their first taste of the newest @Buccaneers jerseys! pic.twitter.com/LbZhts9FUv

— GMFB (@gmfb) April 9, 2020