The New Tom Brady
April 8th, 2020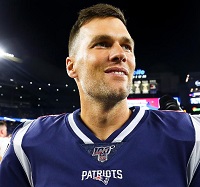 Yes, Howard Stern is using a bunch of goat sound effects on his famous national show this morning in preparation to interview Bucs superstar quarterback Tom Brady, who no doubt will be asked all kinds of questions about his sex life and more.
It's Brady's first sitdown with Stern, who referred to Brady as a dream guest.
So why is Brady, known for being a rather reserved and private (relatively speaking) family man, going on Stern's show?
It's a good question.
Joe wonders whether Brady desires to focus more on his celebrity now in order to build his business interests and enhance his transition to life after football.
As a Bucs fan before anything else, Joe has to think about whether that would be a good thing for the team.
Remember, it is the Bucs, not Joe, that have gone public talking about how Brady's entire approach will raise the game of every single Buccaneer. So if Brady is changing that approach slightly, then it's fair to wonder if there will be a ripple effect.
Perhaps Brady is feeling liberated now that he's no longer with the Patriots? But it's not like Bill Belicheat had a problem with Rob Gronkowski's various antics.
Joe is not anti-Stern whatsoever. Joe is just trying to keep an objective view of the Brady experience, which will take a different turn later this morning.