"There's Only About 10 Or 11 Relevant Teams"
April 26th, 2020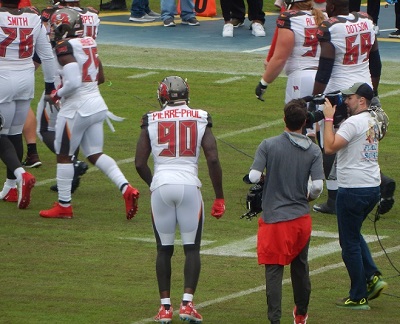 Buccaneers fans have shaken their collective heads at an arrogant rival head coach for a long time.
Now fans of most teams can join in.
Sean Payton, the Saints head coach, appeared on the official NFL Draft-A-Thon fundraiser recently and was asked by future Hall of Fame receiver Brandon Marshall, "how you gonna deal with Tom Brady in the division?"
Payton sort of said most NFL teams are a mess but now the Bucs aren't in that category and have his attention.
"Here's the good news: The good news is, and I say this in all seriousness, is man, there's only about 10 or 11 relevant teams," Payton said. "And I think you're on point, not only Tom but also [Rob] Gronkowski. When someone like Tom comes there, it's not just the quarterback position. The thing as a coach in the division that concerns you, is you know just the standard's going to change [in Tampa], and I think that's a credit to the really, really, really special players.

"And we're watching a month of my man [Michael Jordan] here," Payton continued, referring to the ESPN documentary. "He brought up everyone else around him, and I think that same thing will happen with Tom. But I do feel like [him coming to the Bucs] makes it exciting and certainly newsworthy."
Whew! Joe's glad the Bucs made Payton's top-10 list of "relevant teams." (Does he realize 14 will be in the playoffs this year?)
It will be interesting to see Brady's impact, which will be obvious and easy for him on offense. Joe's eager to see if it crosses the line of scrimmage and impacts the defense. Bucco Bruce Arians and Jason Licht have said multiple times that they believe Brady will have a major impact on all phases of the game.
Payton also added he's hoping for a home-and-away series of the Bucs and Saints featured on Sunday Night Football.