Report: Jameis Close To One-Year Deal With Saints
April 26th, 2020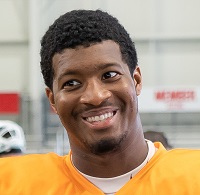 Nobody writes a soap opera quite like the Buccaneers.
In comes legendary Tom Brady and out-the-door goes America's Quarterback, Jameis Winston, to the Saints in the NFC South.
Yahoo! Sports is reporting today that the Saints and Jameis are close to a one-year deal for Jameis to back up Drew Brees.
Of course, Jameis might have to beat out Taysom Hill for the No. 2 QB gig. But what fun it would be if, say, Jason Pierre-Paul knocks Brees out of a Sunday Night Football game and in comes Jameis.
Sean Payton talked the other day about how Brady will change the Bucs' culture and that makes him squirm as a division rival. Joe wonders how related parties involved feel about Jameis now landing in the division.
The Saints have little cap room to pay Jameis, so it will be interesting to see what kind of salary they negotiate. Ian Rapoport of NFL Network reports Jameis turned down more money with another team.
As the #Saints and FA QB Jameis Winston close in on a 1-year deal, worth noting Winston turned down a more lucrative offer elsewhere to learn from some of the best. The former #Bucs starter put the emphasis on his future in a smart choice.

— Ian Rapoport (@RapSheet) April 26, 2020