Brady's Personnel Power & "The Most Important Job In Possibly NFL History For A Rookie"
April 28th, 2020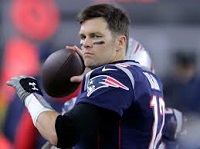 The NFL partners at ESPN sure seem to know something about the inner workings at One Buc Palace.
ESPN is out there pounding the theory that Tom Brady is a massive power broker within the Buccaneers' personnel department.
Over and over and over, ESPN loves this angle, starting with when they first reported it about 7 weeks ago. The Bucs were aware Brady wanted power/influence in personnel and were prepared to give it to him, Dianna Russini shared a week before Brady was signed.
And right on cue, in comes Rob Gronkowski fresh out of professional wrestling for $10 million this season, and Bucco Bruce Arians tells the world Brady pushed for the trade relentlessly.
In a draft discussion on ESPN TV on Friday, popular host Mike Greenberg pushed the Brady's-in-charge theory and it was gobbled up by analyst and former Cowboys and Ravens defensive end Marcus Spears.
"100 percent," said Spears, explaining that obviously conversations were had prior to Brady signing in Tampa — conversations about what Brady desired to succeed.
When you get what you want, expectations skyrocket, Spears added. "It's all on Tom Brady now," he said, noting the Bucs are loaded around Brady.
Spears loved the drafting of Iowa tackle Tristan Wirfs in Round 1, who he astutely said has "the most important job in possibly NFL history for a rookie."
That's a unique take and it might even be accurate. And speaking of accuracy, if it's inaccurate that Brady has personnel power, somebody from the Bucs probably should get on the phone to ESPN so they lay off this storyline flavor of the month.