More Round 2 Jacob Eason Rumblings
April 10th, 2020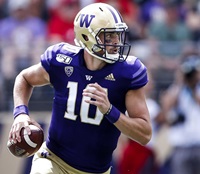 Now this makes four well-connected and big-name analysts, including Rondé Barber, who have spoken publicly about the Bucs going quarterback early in the 2020 NFL Draft.
Last week we heard former QB and current SiriusXM NFL analyst Brady Quinn break down why big-armed University of Washington QB Jacob Eason is a fit for the Bucs in Round 2.
Three weeks ago, Pat Kirwan, the former Jets personnel chief and linebackers coach, howled repeatedly on national radio about Eason being perfect to sit behind Tom Brady.
NFL Network draft guru Daniel Jeremiah, a former NFL scout and college QB, joined the chorus on Path To The Draft on NFL Network, actually "mocking" Eason to the Bucs with the No. 45 overall pick (Round 2).
And the Eason song remained the same — big arm, needs to learn, tremendous ability to push the ball down field — so he's ideal for Arians and his team of QB gurus. Jeremiah, for those wondering, sees Utah State QB prospect Jordan Love landing with the Saints late in Round 1.
Joe's written this many times. Investing in a QB now is a wise move for the Bucs; they seem to have the perfect incubator for a rookie.
But Joe gets that the time to win with Tom Brady is now, and Joe would understand if the Bucs wait a year on addressing QB.