"More Calls From Head Coaches"
April 20th, 2020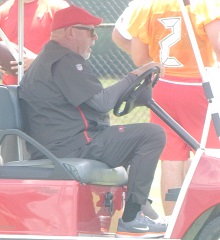 University of Georgia Head Coach Kirby Smart was talking about the NFL Draft late this morning.
Smart, whose new offensive coordinator is former Bucs OC Todd Monken, explained on SiriusXM NFL Radio that this is a draft like no other.
Why?
Because the coronavirus lockdown environment has led to his phone blowing up, and it's big NFL names on the other end of the line.
Head coaches want more info than usual, Smart said, because their scouts fell short gathering the typical intelligence.
"The most unique experience between college coach and NFL GM, scouting department and coaches," Smart said of his 2020 pre-draft experience. "I will say that I've received more calls from [NFL] head coaches this year than I've every received before, meaning they're trying to get on-the-ground information. … I think these guys are going about it a different way."
Joe has a visual of heavy-handed Bucco Bruce Arains on the phone with Smart. And Joe wonders whether Monken has a good relationship with Bucs general manager Jason Licht. Yeah, Monken wasn't at Georgia last year, but there's no doubt that Monken has pored over countless hours of Bulldogs film and has learned from all his assistant coaches.
Smart added that the wild card of this draft will be how teams scout undrafted free agents because most weren't at the NFL Scouting Combine and interaction with them has been significantly limited.
A few Georgia players certainly could catch the Bucs' eyes. Georgia left tackle Andrew Thomas is a likely top-10 pick and right tackle Isaiah Wilson is more of a late first-rounder. Smart said both can be play either tackle position very well.
The guy Smart wanted to gush about is QB Jake Fromm, who could be a mid-round draft target of the Bucs. Smart compared Fromm to former Jets and Dolphins quarterback Chad Pennington.
Smart was on the 2006 Dolphins staff with Pennington, who ranks third in NFL history in completion percentage. He said both QBs share elite anticipation while throwing/reading routes.