A. J. Dillon & The Bucs
April 20th, 2020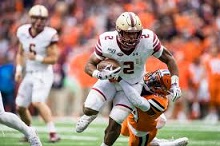 A former Buccaneer who is deeply immersed in college football, as well as all things Bucs, was assigned to mentor and oversee college prospects at the NFL Scouting Combine this year.
That would be ex-AAF assistant coach and former Chucky-era tight end Anthony Becht, who is a regular college broadcast analyst for ESPN.
At the Combine, Becht was assigned to the 2020 tight ends class for the entire week, and Joe talked to Becht there. The NFL typically has highly respected ex-players work with a position group. It's sort of like babysitting and mentoring all rolled into one. Joe hopes the prospects took advantage of a shoot to hit Becht with endless questions.
Becht joined The JP Show on 820 AM last week and was asked about running backs in the draft that would be a good fit for the Bucs.
Outside of a couple of bigger names, Becht said he likes Boston College bruiser A.J. Dillon as a mid-round choice.
Dillon's big frame (6-0, 247) carried a heavy load for Boston College (845 carries) over the past three seasons. His resumé is all about production — 38 touchdowns in 35 games and a 5.2-yards-per-carry average.
"Maybe one of the more productive bigger guys that has a little speed to him that's been ultra productive, not a lot of negative yards for him in his career even though everybody knew he was going to get the ball," Becht said.
Becht sees Dillon as an excellent potential complement to Ronald Jones. "You do need a guy that can also get some tough yards for you, and has a little speed in second level to make a guy miss and is powerful."
Certainly Dillon isn't the Bucs' top choice, but as Joe has written many times, draft fantasies don't always come true.
Dillon doesn't seem to be the pass catcher Bucco Bruce Arians wants, but maybe the Bucs end up with a guy like him and then sign a Devonta Freeman on the cheap.