Louis Riddick Talks Jameis Blame & Confirmation Bias; Peter King Says Jameis Has Been Ruled Out By One Good Landing Spot
April 1st, 2020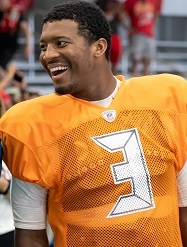 Unemployed America's Quarterback, Jameis Winston, was back in the national news yesterday.
First, Peter King, the Hall of Fame voter, social activist and NFL super insider for NBC Sports, told The Rich Eisen Show that he was in touch with the Steelers and they have zero interest in Jameis being a backup to Ben Roethlisberger.
Ouch!
Second, Bucs Pro Bowl receiver Chris Godwin made waves talking to an BSPN property about how quarterbacks get too much credit and blame, and one example is hanging 30 interceptions last season on Jameis. Godwin said half Jameis' fault.
Former NFL safety and Eagles and Redskins personnel executive Louis Riddick agreed with Godwin's assessment during a passionate segment on BSPN TV.
"You could see that the [Bucs] receiver doesn't finish a route, maybe a receiver takes a different angle out of the break than maybe what Jameis is expecting him to and the ball goes right to a defender," Riddick said of Jameis' game film. "And you can see both the receiver and Jameis looking at each other like, you know, 'What's up? What's going on here?' Look, it's easy to just look at Jameis' stat sheet, especially over the course of his career, and say, 'Look, he's turnover prone.' And he has been; you can't escape that. But you know that every interception has its own story and the game is very nuanced. … Piece by piece, there's a lot of truth to what Chris Godwin said."
Riddick, as his fans know, is a straight-talking realist. Decision-making and accuracy are paramount for QBs, Riddick continued, and Jameis needs work in those areas.
Then Riddick eloquently explained the concept of "confirmation bias," which is prevalent among fans and owners. Simply stated, confirmation bias means if you like a player, you'll argue and swear by all the good things he does to confirm your theory and gloss over his faults. And the hater will do the same thing in reverse.
Jameis has long been a great example of confirmation bias, mostly because he's so good and so bad at the same time.
Riddick, like King, is confident Jameis will find a home and have a clear shot at a great future if his price is right.