"They Said His Joints Are Like That Of A 30-Year-Old Man"
April 2nd, 2020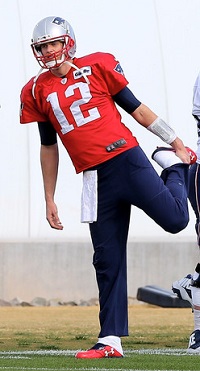 About 15 months ago, Bucco Bruce Arians took an extensive physical exam before the Bucs hired him and the head coach said he was fired up to get a "C."
But what about Tom Brady?
Buccaneers QB coach Clyde Christensen was adamant today on The Pat McAfee Show that any chatter of Brady's game falling off is nonsense, especially his deep ball. The film tells the truth, Christensen said, and so do the medical professionals.
"Every time he got his opportunity, that ball went up top, and usually extremely successfully," he said. "I think that [deep ball] narrative is dead off base. If I thought that way, we probably wouldn't have gone after him. He's playing at an extremely high level. He took his physical, they said his joints are like that of a 30-year-old man. He takes care of himself."
Joe's fired up to hear the comment about Brady's body being younger than his 42 years. That's so critical. He needs to beat back Father Time for at least two more years.
As for the concept of Brady raising the game of every Buccaneer, Christensen was singing that tune, and McAfee, a two-time Pro Bowl Colts punter said he completely understands. "I became a better punter just by watching Peyton Manning work."