Is Aaron Rodgers The Next Bucs Starting QB?
April 24th, 2020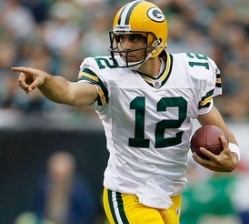 The headline represents the first thing running through Joe's brain the moment the Packers traded up to select quarterback Jordan Love in Round 1 of the NFL Draft last night.
Aaron Rodgers is 36 years old and Tom Brady turns 43 in August.
Think about it. Brady plays two years for the Bucs and retires after winning the Super Bowl in February 2022. Then in comes Rodgers to a high-profile Bucs team at 38 years old with an elite head coach or the guy Bruce Arians likely handpicked to replace himself. And we all know Florida is a great place to retire.
Already there are preliminary rumblings of unrest in Green Bay. Apparently, their GM didn't reach out to Rodgers — who has an out in his contract after the 2021 season — following the draft pick.
It's a fun thought but too overwhelming considering Tom Brady hasn't played a game yet, though he may have trained with Byron Lefwich.