"I Didn't Realize Moving To Florida Was Going To Cost Me Money"
April 27th, 2020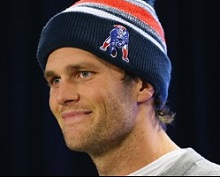 Tom Brady got all kinds of shade thrown at him by his peers during a recent live video chat on NFL.com.
It was coming at him from all angles. Russell Wilson poked fun at Brady for his "Tompa Bay" slogan, along with actor Kevin Hart calling him an arrogant ass for renaming his new city.
And of course, there were many jabs about Brady entering the wrong South Tampa house while he apparently looked for Byron Leftwich. "He doesn't even know where he is right now," said NFL Network host Rich Eisen while Brady was listening.
Brett Favre even chimed in without being prompted to express his disbelief of Brady's Tampa escapades, "I think it's that Florida heat getting to him already," Saints running back Latavious Murray said.
Brady talked about his new life.
"I bought a couple of jet skis; I'm thinking about a boat," Brady said. "I didn't realize moving to Florida was going to cost me money."
After Eisen said Brady doesn't know where he is now. Brady said, "They got WiFi, so I'm cool."
Joe suspects Brady also is paying for security after realizing any clown in a kayak could find his way to Brady's waterfront backyard in Davis Islands.
Joe has been told Brady owns a limousine among his several vehicles. Joe's wondering whether Brady eventually will hire a driver to help him read Tampa addresses and city park signs. In New England, Brady was known to take a helicopter to games in order to avoid the notorious traffic out of their stadium.
Just don't tweak your back on those jet skis, Tommy.