Gronkowski Is Due $10 Million In 2020
April 21st, 2020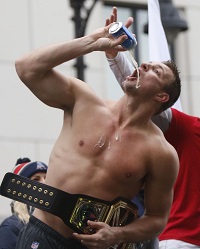 As the Buccaneers go all-in on offense with a trade today for Rob Gronkowski, they'll also be pushing the limits of their salary cap and undoubtedly be putting Chris Godwin's conract extension on hold.
Gronkowsi, who the Bucs are about to acquire from the Patriots, is due $10 million in 2020. He turns 31 in May and is a free agent in 2021.
So who's going to be launched? Cameron Brate? O.J. Howard? All three will not be Buccaneers this season.
The draft is very light on tight ends and there's demand at the position around the NFL.
Could Howard fetch the fourth-round pick the Bucs are coughing up for Gronkowski?
Man, the Bucs have given new meaning to the phrase "all-in."