Glazers Loud On Uniforms But Quiet On Tom Brady
April 7th, 2020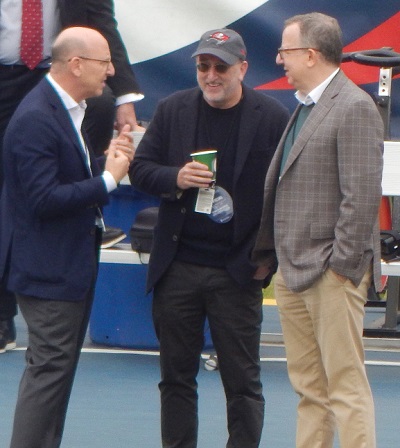 Man, Joe can't figure out Team Glazer.
They sign history's most successful quarterback and go silent. But they correct a horrendous uniform mistake and that gets the uncomfortable and mind-numbing silence broken? Weird mindset.
For those unaware, the Bucs rolled out new uniforms today that look a lot like the glory-years threads they scrapped after the 2013 season.
Today's official team release had a quote from Buccaneers owner/co-chairman Ed Glazer. It was as bland as unleavened bread.
 "This new but familiar look is a direct result of the valuable feedback we received from our fans," Glazer said. "We are excited to return to our classic Super Bowl era uniforms while also introducing a sleek Color Rush uniform that showcases our signature pewter in a new and dramatic way. The refreshed classic design of our home and away combinations bridges our past with our exciting new future, and we are confident it will resonate with our fans."
Yawn.
Would it have tortured Team Glazer to say something like, 'and we can't wait to see Tom Brady wearing one of these new jerseys?' Where's their sense of fun?
Joe knows Team Glazer is wildly passionate about every Bucs turnover, touchdown and front office blunder. It's too bad they like to keep that hidden to such an extreme.