Dynasty Step 1
April 20th, 2020
BY IRA KAUFMAN
Some events are so damned consequential, they can't be confined to just one column.
Twenty-five years ago this week, the foundation for the Super Bowl champion Buccaneers was poured. The date was April 22, 1995, and by the time darkness descended on the woodshed known as old One Buc Place that Saturday night, everything had changed.
"Those are the kinds of things that propel teams into greatness," said former Director of College Scouting Tim Ruskell, reached at his Madeira Beach home. "That feeling never goes away."
Thanks to a draft-day trade, an unfounded late rumor and some brass cojones, the Bucs walked away from that first round with a pair of Hall of Famers.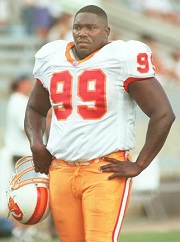 Warren Sapp and Derrick Brooks, star high school players in the state, would ultimately combine skills and wills to transform a laughing-stock franchise into NFL champions.
It took some luck and a whole lot of overthinking by Tampa Bay's competitors to make it happen. It took a workout warrior named Mike Mamula and an unsubstantiated report on the brink of draft day that Sapp had tested positive for marijuana six times and once for cocaine while at the University of Miami.
"Because of our location and our relationships, we felt we knew all the issues regarding Warren," says Rich McKay, who had been named Bucs GM only five months earlier. "We knew what was true and wasn't true."
Agonizing Start
On sheer talent, Sapp could have easily been taken No. 1 overall instead of running back Ki-Jana Carter, whose pro career was wrecked by injuries. Instead, the All-America defensive tackle found himself repeatedly passed over while his family squirmed at draft headquarters in New York City.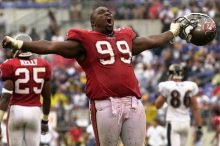 In his 2013 Hall of Fame speech, Sapp described the extent of his disappointment.
"On that April afternoon, it wasn't fashionable to be with Warren Sapp," he said. "I was sitting there for two hours and 45 minutes."
While Sapp was dropping, the Bucs were mobilizing. McKay, Ruskell and Director of Player Personnel Jerry Angelo engineered a trade with the Eagles, who coveted Mamula. The Bucs moved back from No. 7 to No. 12 and yielded a third-round pick to Philadelphia, pocketing a pair of second-round selections.
Those picks would be instrumental in moving back late into the opening round to grab Brooks.
Once the deal with the Eagles was finalized, the Bucs had no idea Sapp would still be available at No. 12, but they felt they had the necessary ammunition to trade up for Brooks.
But yes, there were a few anxious moments.
With the Jets on the clock at No. 9, chants of "We want Sapp, we want Sapp," began to reverberate through the Paramount Theater at Madison Square Garden while Commissioner Paul Tagliabue awaited the pick.
When the Jets selected tight end Kyle Brady, Sapp was one step closer to Dale Mabry Highway.
"It was not going to happen," said former Jets Director of Player Administration Pat Kirwan, now a popular co-host On SiriusXM NFL Radio's Movin' the Chains. "We missed on Sapp and we elected to miss on Sapp."
When the Vikings bypassed Sapp at No. 11, frustrating Minnesota defensive coordinator Tony Dungy, the Bucs pounced.
"We weren't going to pass him twice," Angelo said. "At that point, it was worth the risk. On talent, he should have been the No. 1 pick. It was a fire drill the day before the draft and we were the beneficiaries. It was an unbelievable twist of fate."
Sapp's agent, Drew Rosenhaus, was relieved but bitter.
"Anyone who says Warren Sapp is the No. 12 pick is on drugs," he proclaimed.
Rare Specimen
Ruskell had scouted Sapp extensively and he harbored little doubt about his potential impact on an organization that had suffered through 12 consecutive losing seasons.
"He was a unique prospect," Ruskell said. "That pass-rush ability from an inside position was rare. We were looking for a defensive tackle and I had never seen anyone like him on tape. Warren blew you away. When I met him, he was very brash. He couldn't have been more confident."
Before choosing Sapp, McKay pulled Tampa Bay's new owners from the draft room, where the Glazers had been relegated to a corner spot.
"The sale of the team wasn't finalized for another two months, so Steve Story was in the room as a trustee," McKay says. "I had to take the Glazers outside after about the 10th pick to tell them we were getting ready to take Warren. I expected a big discussion, but before I even got the next sentence out, they said, 'Rich, we're good with Warren Sapp.' "
One Canton bust secured, one more to go. History in the making.
Stay tuned for the rest of the story.