Draft Pain & Priorities
April 7th, 2020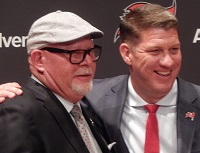 With the No. 14 overall pick in the NFL Draft (what a shock to be outside the top-10!), the Bucs own the challenge that comes with a mid-round pick, where moves are less obvious and draft prowess gets an additional spotlight.
(One could argue the pick of Pro Bowl edge rusher Josh Allen was obvious at No. 5 overall last year, but that's an argument for another day.)
With Tom Brady now on the roster, draft priorities have changed. Protecting 43-year-old Brady becomes more paramount than, say, stopping 26-year-old Jameis Winston from absorbing too many beatings.
Drafting an O-lineman in Round 1 this month also would a break from a sad Bucs tradition, one that hasn't seen them take an O-lineman on the first night of the draft since 2006.
Draft guru Daniel Jeremiah, the former college QB and Eagles and Ravens scout, released his new mock draft today for NFL.com and Joe has picks No. 13 through No. 15 highlighted below.
PICK 13
Javon Kinlaw – DT

School: South Carolina | Year: Senior – The Broncos could go receiver here, but they also have a need on the D-line. Kinlaw has unlimited potential.
.
Man, suppose those three guys are all on the board for the Bucs at No. 14? Jeremiah has LSU edge rusher K'Lavon Chaisson going at No. 17 overall to Dallas after the Falcons grab Gators cornerback C.J. Henderson.
.
Joe wonders how much Bucco Bruce Arians remembers whiffing on guard Jonathan Cooper in Round 1 (No. 7 overall) of the 2013 NFL Draft, his first as Arizona head coach.