Dissecting Desperation
April 27th, 2020
BY IRA KAUFMAN
Every NFL team walks away from draft weekend feeling good about the results — and the Bucs are no exception.
Jason Licht and Bruce Arians are crowing like they just hit the lottery.
Despite all the pre-draft chatter about taking the best available player, Tampa Bay's weekend haul was driven primarily by need. The three biggest holes to fill were offensive tackle, running back and safety, in that order. It's no surprise those were the areas addressed with premium picks.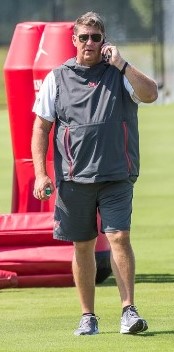 Next up were wide receiver and defensive tackle — straight out of the need handbook.
In reading the national reports, it is now clear that Licht was a desperate man on Thursday evening.
Desperation can be a good thing because it means a franchise has a sense of urgency regarding the upcoming season. The flip side of desperation? It can trump rational thought.
Buc fans owe Jacksonville GM Dave Caldwell a huge thank you for rebuffing Licht's misguided offer that night. Licht was so focused on getting a particular tackle, he was willing to surrender picks in the third and fourth round for the opportunity to jump from No. 14 to No. 9.
Peter King, deeply embedded with the Bucs during the first round, described Licht's disappointment when the Jaguars remained in their spot and selected Florida cornerback C.J. Henderson.
The fact remains that Licht was ready to potentially sit out two rounds of a critical draft. That's an extraordinary price to pay for a prospect who will line up at right tackle this fall.
Right tackle, not left tackle.
The Deep End
My guess is Tampa Bay's target at No. 9 was Alabama's Jedrick Wills, who was promptly chosen by Cleveland with the 10th pick. Once the Jets followed with Mekhi Becton, the heat was on.
At that point, Wirfs was the only tackle still standing among the Big 4, and the Raiders and 49ers were still ahead of the Bucs. Licht wasn't worried about Oakland, but John Lynch posed a problem, particularly with the impending retirement of Joe Staley.
Adding to his reputation as a fast-rising GM, Lynch grabbed a fourth-round choice from Tampa Bay, moved back one spot and drafted the guy the 49ers wanted all along, Javon Kinlaw. Lynch would soon engineer a deal with Washington, adding tackle Trent Williams to replace Staley.
Licht didn't want to yield that fourth-round pick, but he was concerned on two fronts: Lynch might draft Wirfs or a team like Miami would make a deal with the 49ers and jump the Bucs to grab Iowa's big man.
That scenario wasn't going to fly at One Buc Place. If it's all about Tom Brady, it's also about protecting Tom Brady.
We've all seen the amazing video of Wirfs jumping out of the pool, feet-first. Now, he's in the deep end. Now, every whiff in pass protection will be potentially devastating.
In Round 2, the Bucs could have selected a back like Cam Akers or J.K. Dobbins. Instead, they chose Antoine Winfield Jr., a versatile safety who had a very high grade on Tampa Bay's board.
He was too good to pass up.
Ten picks later, the Ravens felt the same way about Dobbins. The league's No. 1 ground game, powered by Lamar Jackson and Mark Ingram, just got stronger.
"We didn't really expect Dobbins to be available there, I don't think anybody really did," said Ravens GM Eric DeCosta. "But we just had to take him."
That's the way the Bucs felt about Winfield, who seems like a natural fit for Todd Bowles at slot corner.
Patient Finish
Ke'Shawn Vaughn, the back selected in Round 3, was productive at Vanderbilt but he's no Akers when it comes to soft hands. Given Brady's penchant for throwing to backs, the Bucs still have work to do in this regard.
Fifth-round pick Tyler Johnson looks like a Chris Godwin clone, which isn't a bad thing. In a draft this rich in wide receiver talent, the Bucs were wise to be patient in their search for a No. 3 wideout.
Mr. Jagger told us you can't always get what you want … and the Bucs just proved it. They still need an accomplished pass-catching back, but this team has a dangerous look.
And while the savvy Saints aren't going away, the Bucs appear to be closing fast.
"I want our guys to feel that we are a team to beat," Arians says. "Everybody that left our locker room in that last meeting knew we should have been playing in the playoffs, and we beat ourselves."
Thanks to Dave Caldwell, the Bucs didn't beat themselves in Round 1.