Bucs Pick Tristan Wirfs In Round 1
April 23rd, 2020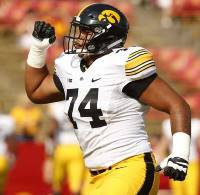 The cry used to be Weapons For Winston. Now it's "Beasts For Brady."
The Bucs have just traded up one spot with the 49ers to draft tackle Tristan Wirfs, the 6-5, 320-pound athletic freak out of the University of Iowa. He mostly played right tackle at Iowa and that's where the Bucs need him.
Wirfs, 21, talked weeks ago about how he had a few phone calls with teams and noted his first Zoom video call was with the Buccaneers, specifically with offensive line coaches and Bryon Leftwich.
They must have loved him.
Iowa is certainly the school from which you want to draft an offensive lineman. "We're held to a higher standard," Wirfs said of himself and his college linemates.
Hall of Fame general manager Bill Polian shared on SiriusXM NFL Radio that Wirfs won't be coached better in the NFL than he was at Iowa.
This is a safe pick for the Bucs. Wirfs is considered a plug-and-play guy, though many think he'd be a better guard in the NFL.
Regardless, the Bucs now have one supremely talented offensive line.
Let's go score 30-plus points per game!