Bucs Draft RB Ke'Shawn Vaughn In Round 3
April 24th, 2020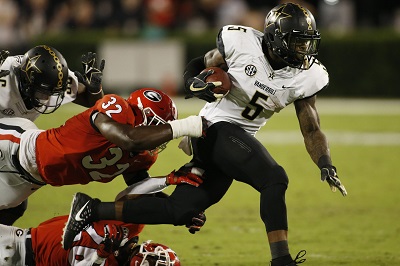 Joe's going to try and have a little faith that new Bucs running back Ke'Shawn Vaughn out of Vanderbilt is not the next Ronald Jones, SnoopDogg McPlaybook, Charles Sims or Doug Martin of 2016 and 2017.
He's not one of the special and heralded names in what is a solid 2020 class of running backs, but he's been an extremely productive runner in the SEC over the past two seasons, 2,272 yards on 355 carries.
Many draft gurus labeled Vaughn backup material, and he definitely hasn't proven to be a special pass catcher. But what Joe likes is that Vanderbilt had a reputation for having a brutal offensive line last season.
Vaughn is known for being a super-hard runner, a hit-the-hole kind of guy lacking the ability to turn the corner off the edge. Lovie Smith rejected him at Illinois, so that bodes well.
Everyone keeps saying the mere presence of Tom Brady will help the running game because of his checks at the line of scrimmage plus Tristan Wirfs is an upgrade at right tackle in the rush attack, as is Rob Gronkowski. So maybe Vaughn can take advantage.
Did the Bucs get the pass-catching back Bucco Bruce Arians says he covets? It doesn't seem like it, but let's give the kid a chance.