A Who-They'll-Pick Mock Draft
April 22nd, 2020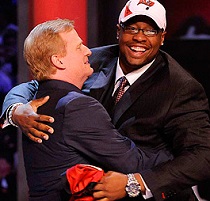 Lifelong Bucs fan and Joe's good friend, Bill Currie Ford general manager Sean Sullivan, happens to be one of the top students of the NFL Draft on the planet. For decades he's been studying the draft year-round in his free time. Sullivan penned a 2019 column here on his must-have draft pick for the Bucs, and he did a fresh one for 2020, plus he offered a clear all-in fix at tackle.
Please enjoy his Round 1 mock-draft-to-the-Bucs below:
Forget about past failures. This is not the time to feel sorry for ourselves anymore.
We are one day from finding out who gets to play with Tom Brady (and Rob Gronkowsi). It's so exciting to think Brady will lead our team into the 2020 season with expectations ranging from playoffs to true Super Bowl contender.
We must come out of this draft with instant-impact playmakers.
I have mocked the first 14 picks and who I believe the Buccaneers will pick. (Later, I'll tell you who they should draft.)
1) BENGALS-Joe Burrow  – QB  – LSU – (No-brainer. Even the Bengals can't screw this up.)
2) REDSKINS-Chase Young – DE  – The Ohio State – (Best Edge in the draft)
3) LIONS-Jeff Okudah – CB – The Ohio State – (Too high for him)
4) GIANTS-Derrick Brown – DT – Auburn – (They need help everywhere)
5) DOLPHINS-Justin Herbert – QB – Oregon – (Fits their new offense)
6) CHARGERS-Tua Tagovalia – QB – Alabama – (Too good to pass on)
7) PANTHERS-Javon Kinlaw – DT – South Carolina – (Lost many from 2019 D-line)
8) CARDINALS-Tristan Wirfs – OT – Iowa -(Fits offensive system)
9) JAGUARS-Isaiah Simmons – LB/S – Clemson – (Best defender available)
10) BROWNS-Mekhi Becton – OT – Louisville – (Fits locker room)
11) JETS-Andrew Thomas – OT – Georgia – (Might be too smart for them)
12) RAIDERS-Jerry Jeudy – WR – 'Bama – (Gruden loves Jerry Rice; both incredible route runners)
13) SAN FRAN-C.J. Henderson – CB – Florida – (Best corner remaining)
14) BUCS-Jedrick Wills – RT – Alabama – (Safe Day 1 starter at RT)
My pick: Henry Ruggs – WR – Alabama.
Backup pick (if Ruggs is gone): K'lavon Chaisson – DE – LSU.
–Your favorite Ford GM.