"You Let Your Heart Decide Things, You'll End Up Getting Fired."
March 12th, 2020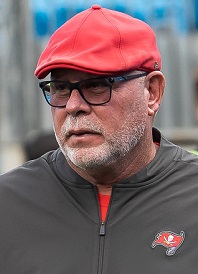 Perhaps Bucco Bruce Arians learned from the Andre Ellington and Deone Bucannon experiences of 2019, or Jason Licht learned from the Doug Martin debacle.
Joe's being a bit of a wiseass, but telling new words from Arians are profound, timely and make you wonder.
The Buccaneers rolled out a new The Current video at the official team website, and in a segment featuring the highs and lows of Jameis Winston and the Bucs' pending decision at quarterback, Arians is shown delivering a hard line.
"There's no such thing as nostalgia in football; it's good or bad. You let your heart decide things, you'll end up getting fired," Arians said.
It's a great take by Arians, but the reality is every coach and GM plays nostalgia/politics with their roster. It's ingrained in the culture.
Coaches like players and get blinded from seeing who they are. General managers cling to their bad draft picks and foolish free agency signings. Both, at times, will roll with a drafted player over a better player because of their nostalgic feelings for what the guy accomplished elsewhere.
Still, Arians said the quote above and it could be his new reality at quarterback. As Joe wrote last week, "will Arians gamble his career on Jameis?" Arians could blame Team Glazer for Jameis in 2019, this year it's the coach's call at QB and he is very unlikely to bet on Jameis before seeing all his cards.
Job preservation always wins.