Will Bruce Arians Gamble His Career On Jameis?
March 8th, 2020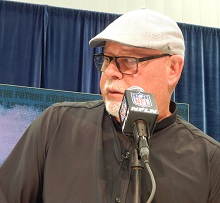 About 14 months ago, Bucco Bruce Arians nodded his head at Team Glazer and agreed to give America's Quarterback, Jameis Winston, everything he had, and the full attention of the other QB gurus on staff.
Joe will take a tiny leap and say it was a condition of getting the head coaching job, even if Arians was happy and eager to do it.
But what's no leap is that Arians now believes Jameis came up short under elite coaching and behind solid pass blocking, all while throwing to elite receivers and enjoying half a season of good defense.
Arians' accountability-focused regime is pointing a finger at Jameis, not the coaching staff.
That's largely a fair call, and it's certainly a wise move if Arians wants to continue coaching the Bucs for many years, which he told FOX Sports he did during a chat the NFL Scouting Combine two weeks ago.
That brings us to March 8, just four days from the deadline to slap a franchise tag on players. If the Bucs don't franchise tag Jameis (or transition tag), then he can hit the open market next week. No tag or contract for Jameis would be the equivalent of Arians officially saying to Jameis, 'You failed and we're not worried about losing you.'
In four days or less, hard truths will emerge. Right now, all Bucs fans have is uncertainty.
Joe believes Arians is hesitant to gamble what's left of his head-coaching career on Jameis. For if Jameis returns for 2020 and, well, plays like Jameis, that would be completely on Arians rather than Team Glazer. And if the Bucs were to have another 7-9 record within that scenario, and Arians didn't draft a legitimate starting QB prospect in April, then the losing result should/would end Arians' tenure as Bucs head coach.
Joe is confident Arians realizes signing, for example, Teddy Bridgwater to a multiyear contract, effectively would buy him time. Joe's not saying Arians doesn't care about winning immediately, but he's also a guy who wants job security for himself and his staff.
Ultimately, job security matters. Coaches and general managers make it a priority all the time. However the next 10 days play out at quarterback, Joe is sure that will be a factor in some form.