Will Jason Licht Be More "Hands On?"
March 25th, 2020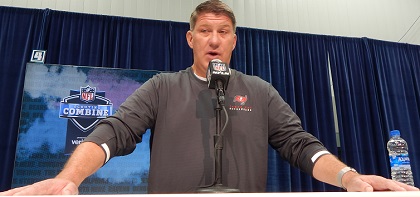 The NFL seems determined to hold the NFL Draft on time, which means it kicks off in 27 days as a made-for-TV event in a studio rather than in Las Vegas before hundreds of thousands of fans.
For those paying attention to national news, NFL general manager's aren't pleased.
Reports have said the consensus in the GM community is to delay the draft so teams can work out prospects, do face-to-face interviews, etc.
The NFL, apparently, has told them all to suck it up and rely on their scouting and online interview skills. Hall of Fame executive and NFL scouting godfather Gil Brandt touched on this a bit over the weekend.
Ravens GM Eric DeCosta explained to the Baltimore Sun that he would be "more hands-on" in this draft than ever before.
"This is a challenging time," DeCosta said. "We can't do the things that we're accustomed to doing, we can't be meeting with these players, we can't be working out players, we can't be visiting with players, so what are the things that we can do?

"…  Rest assured, I'll be watching every single player in this draft and go back to my days as the college scouting director. And we'll work together, and we've got a great staff of people. And even if we can't be together [at the team facility], we can get on the phone, we can work remote, we can video-conference each other, and we'll make the best decisions that we can for this club."
This got Joe thinking about whether seventh-year Bucs GM Jason Licht will have the same mindset. Would Licht being more hands-on, aka more influential, be a good thing or a bad thing?
Joe can't answer that.
It's apparent to Joe that Licht didn't call all the shots during Lovie Smith years. Joe can't imagine Licht, of sound mind and body and fresh off working under superior head coaches and executives, believed his first team should be led by career loser Josh McCown. How could Team Glazer have approved of that nonsense? Baffling!
Still, Licht had lots of influence and input. And then he was a true power lord during the 2016, 2017 and 2018 drafts before the new sheriff in town arrived.
Those three drafts certainly were a mixed bag: 2016 was a colossal bust, 2017 produced a Pro Bowler from Round 3 (Chris Godwin) and two promising players that had major injuries (Justin Evans and Kendall Beckwith), plus underwhelming O.J. Howard. The 2018 class has much more to prove — and the team still needs a No 1. running back.
Certainly, Licht's staff is being tested in a big way right now, and Joe knows of no major changes to its core team.
Joe's wondering today how much not being able to work out and spend time with quarterback prospects will affect the Bucs' draft. Joe believes Tom Brady's successor should be chosen next month, but if you can't do all your proper homework on the guy, then maybe it's best to wait until next year. Maybe.