Early Errors Most Concerning
March 8th, 2020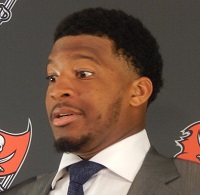 Joe's always interested in hearing how quarterbacks evaluate America's Quarterback, Jameis Winston, especially QBs who played for Jimbo Fisher and also starred in baseball.
Josh Booty may not be a name familiar to Bucs fans, but he was a top college quarterback recruit who instead took huge cash in baseball as MLB's No. 5 overall pick in 1994. But Booty turned out to be a bust.
Five years later, LSU scooped him up, Fisher coached him up, and he had a nice little college career there before becoming a sixth-round pick of the Seahawks in 2001.
Booty is now a media guy in Louisiana and talked about Jameis on CBS Sports Radio two days ago.
Early-game mistakes, one of the great mysteries of Jameis, are a huge concern for Bootty.
"He throws a lot of great balls, but he starts games bad. I don't know if he psyched himself up. You know, I'm thinking as a quarterback would think," Booty said. "But you go into a game, it's 'What's Jameis going to do this game?' And he gets all hyped because he wants to throw for 400 yards, and he's that kind of guy. He's super-athletic, super-gifted' he's all that. Big tall strong right-handed QB who can throw the pill, but man, you can't make mistakes early in the game that set your self up for failure."
Just when Joe almost blocked out all those opening-drive picks by Jameis, Booty had to bring it up. Well, at least Joe had Big Storm in the fridge.
Booty did express his love of Jameis' "keep-firing mentality. …
"But he can be good; he's got a lot of upside. Eliminate half those picks and hold on to the football and take those sacks instead of throwing it up."