The Panthers' Housecleaning And The Bucs
March 2nd, 2020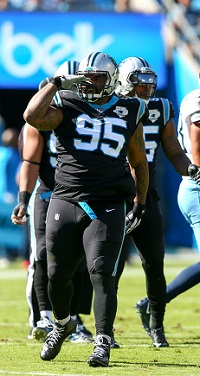 As the pre-free-agency rumors fly (we're just 2 weeks away from the dinner bell ringing), it's becoming increasingly clear that Carolina is in lose-now mode.
It's understandable. Two rough seasons in a row, quarterback uncertainty and a head-coach change will put a lot of teams in a rebuild mindset.
Two big Panthers names emerged today as guys who will have new teams in 2020. ESPN is reporting the Panthers are looking to trade five-time Pro Bowl guard Trai Turner, who turns just 27 years old in June. Who trades a Pro Bowl offensive lineman?
Another report that flowed through many channels today claimed Carolina will not pick up the nearly $10 million option on defensive tackle Dontari Poe, who is coming up on his 30th birthday.
Joe's interest is in Poe, who could be a one-year-deal choice to replace Ndamukong Suh, if he heads out of Tampa. Poe can rush the passer; the Panthers actually led the NFC in sacks last year. Durable throughout his two-time Pro Bowl career, Poe had a nasty quadriceps injury end his 2019 season early.
He finished with four sacks in 11 games, and he could be a nice complement to run-stuffing Vita Vea, who the Bucs often sent to the bench on passing downs.
Regardless, Joe's happy the Panthers seem ready to start from scratch. That's good for the Bucs, and it will add pressure to Tampa Bay and Bucco Bruce Arians to perform, especially if the NFL expands the NFC playoff field from six to seven.