Report: Bucs "Hot" For Teddy
March 2nd, 2020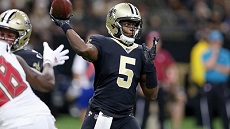 What a coincidence!
This morning Joe wrote about Rondé Barber gushing over Teddy Bridgewater, and now a new report claims the Bucs are hot for the 27-year-old Saints backup and former Vikings Pro Bowler.
Pro Football Hall of Fame voter and The Athletic writer Mike Sando penned a column behind his company's pay wall that featured quotes from sources he talked to last week at the NFL Scouting Combine.
"I am hearing Tampa Bay is hot on Bridgewater," a GM said.

"That would leave Winston on the outside for Tampa Bay, and possibly elsewhere. How many teams in a buyer's market will offer a starting job to a player known for making poor decisions on and off the field?  … …

"The only way you can put Winston behind somebody (as a backup) is if the starter is an old guy who is completely established and has one or two years left," an evaluator said.

Which coach might think he could fix Winston?

"Sean Payton," the evaluator replied. "New Orleans wants to keep Taysom as their gadget guy. To do that, they need a No. 2. They can sell it by saying Brees has one year left, so just spend a year with Sean and become the starter in 2021."
Joe could totally see Bucco Bruce Arians offering Bridgewater a three-year contract. Sadly, that might mean the Bucs' deep-ball prowess would near extinction, while ball-security would improve to what it was during the Mike Glennon era.