The Bucs Make Sense For Brady, And Vice Versa
March 6th, 2020
BY IRA KAUFMAN
The Bucs are going to give this their best shot. Most likely, they've already started.
Tom Brady isn't ready to retire and neither is Bruce Arians, especially if he can talk the NFL's ultimate winner into taking Giselle and the kids to the Bay area for a year or two.
The odds on the Bucs landing Brady remain remote, but prying Jon Gruden away from the Raiders looked like a longshot 18 years ago. Then the Glazers stepped front and center, shoved Rich McKay aside and worked a midnight deal with Al Davis.
When the fax machines stopped whirring, Tampa Bay had a new head coach and football at One Buc Place would never be the same.
According to BetOnline, Brady is better than even money to return to New England. If Brady departs as a free agent, Tennessee is listed at 5-1 to be his new home, followed by the Raiders and Chargers at 6-1, the Colts at 9-1 and the 49ers at 10-1.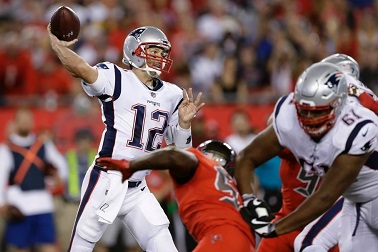 Next up is Tampa Bay at 12-1.
Shock And Awe
Why would the Bucs be interested in a 42-year-old quarterback who averaged only 6.6 yards per pass attempt? Brady ranked 27th in the league, below Joe Flacco, Case Keenum and Ryan Fitzpatrick and well below Winston's 8.2 average.
It's the rings, baby. It's the leadership. It's the legacy. It's the buzz that would spread throughout a fan base longing for NFL relevance.
We already know how Bruce Arians feels about No. 12. If Brady becomes available, Arians is all in. That means Jason Licht is all in.
The shock of 30 interceptions still hasn't worn off on Arians, so the idea of replacing Winston with the ultimate decision-maker under center is rather appealing. Despite averaging 35 passes per game in his career, Brady has never thrown more than 14 picks in a season.
His 1.8 percent career interception rate ranks as the fourth-lowest in the league's 100-year history.
Arians has Brady in his sights, so it's logical to assume Arians would be willing to tweak his offense accordingly. That means addressing a pedestrian ground game and getting O.J. Howard more involved. That means a shift to shorter passes more conducive to Brady's quick release.
Arians can lay on the charm, but the Glazers can lay out the cash.
Ultimate Test
And while Arians talks about the incomparable tandem of Mike Evans and Chris Godwin, Joel and Bryan Glazer can try to sell Brady on the significance of turning around a beleaguered franchise.
Getting out from under Bill Belichick's hoodie and ending Tampa Bay's 12-year playoff drought would be the ultimate proof that Brady's greatness extends beyond the reach of a Hall of Fame coach.
That could be enticing for a generational player who likely feels disrespected by Belichick at this point.
The Glazers like sizzle and Brady is enough of a big deal to demand their attention. This isn't like making a call on Peyton Barber or Breshad Perriman.
This is an opportunity to lure an NFL icon to One Buc Place and send those phones in the ticket office into overdrive. The Glazers have proven to be a savvy business family and Tom Brady is good business.
If the Bucs can land Brady and groom someone behind him, Buc Nation will be ecstatic. What a jump-start to the 2020 season it would be.
There are plenty of reasons Brady would pass on Tampa Bay. It takes two to tango, but this dance has only just begun. Arians has already pushed his chips into the middle of the table … he's all in.
The Glazers are standing behind Arians, wearing a No. 12 jersey and egging him on.
---
IRA WILL BE THERE. WILL YOU?