The Buccaneers & Brian Hoyer
March 22nd, 2020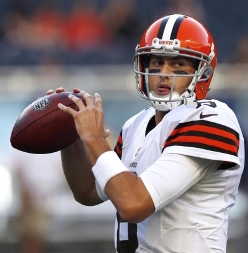 They're talking about it in Boston and on SiriusXM NFL Radio.
The official announcement of Philip Rivers signing with the Colts brought the release of 2019 Colts backup quarterback Brian Hoyer.
The 34-year-old friend of Tom Brady is on the street looking for work. Undrafted out of Michigan State in 2009, Hoyer landed with the Patriots as a rookie and crafted an 11-year career for himself.
He never started a game for New England, but he is 16-22 as a starter around the league, with 52 touchdowns and 34 interceptions.
By contrast, Bucs backup Ryan Griffin has never started a game, and still-a-free-agent QB but soon to re-sign with the Bucs, Blaine Gabbert, is 13-35 as a starter with 48 touchdowns and 47 interceptions.
There has been lots of talk about Brady having a hand in personnel decisions. It would be logical to assume backup quarterback might be one of them.
Joe would be just fine with Brady, Hoyer and a highly-drafted rookie as the Bucs' QB stable for 2020.