The Brady And Arians Marriage
March 23rd, 2020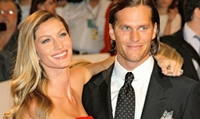 It's some ways, the marriage of new Bucs quarterback Tom Brady and old Bucs coach Bucco Bruce Arians will be a shotgun wedding.
Each day with this coronavirus pandemic ravaging America, it looks worse and worse and frankly, Joe is seriously wondering if training camps will open in July. As Joe is typing this, Joe would bet against the NFL having any OTAs this spring.
(Feel free to Google what some high-level physicians and politicians are saying about the timeline of this pandemic.)
So with so little time to prepare for a regular season (if it starts on time), don't be shocked if the Bucs and Arians try to learn the Patriots' offense rather than Brady learning Arians' offense.
Follicly-challenged Billy Barnwell of BSPN thinks the Bucs offense this fall will be a combo of what Brady ran in New England and what Arians has run for years.
Do I think Arians is going to hand Brady the 2019 Bucs playbook and tell him to go stretch his arm for the fall to come? No. He's too good of a coach for that. My suspicion is that we'll see some of the play-action concepts Brady loved in New England integrated into Arians' attack. The 67-year-old coach will install more quick game to play to Brady's strength of getting the ball out quickly and accurately to an open receiver.

Both the Patriots and the Buccaneers went with empty formations more than 100 times in 2019, which ranked among the top 10 teams in the league. Both Arians and New England offensive coordinator Josh McDaniels asked their quarterback to make quick, accurate passes in those scenarios. Brady will be better there than Winston was in 2019. After all that, yes, I do think we'll see Brady take shots downfield more frequently with the Bucs than he did with New England. We won't see the McDaniels offense exported to Tampa or the Arians offense thrust upon Brady, but we'll see something that incorporates the strengths of both.
Here is what Joe thinks will happen: Last year the play-action (which worked well for Jameis Winston in previous years with the Bucs) wasn't worth a crap last year. That was because defenses didn't trust the running backs and of course, Jameis doesn't have that quick of a release. So that allowed defenses, who didn't respect the Bucs' run game, a brief moment to recover.
Brady can still get the ball out quickly. So he can burn defenders who may hesitate on a play-action.
It sure would be nice though if a back Brady fakes a handoff to would at least make a defensive coordinator think twice about the defense he runs.