Bruce Arians Talks Playoffs, Super Bowl
March 25th, 2020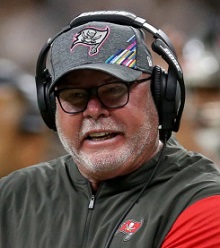 Bucco Bruce Arians was hit with the ultimate question today during a conference call with Joe and local media.
Does signing a 20-year veteran quarterback to a 7-9 team mean you're capable of winning a Super Bowl immediately?
"I think so," Arians said. "The last meeting we had as a football team, you know, I think every single player in the room believed they should have been in the playoffs," Arians said. "And the major factor was our turnover ratio. We didn't get enough turnovers and we turned it over way too many times. And if we corrected that, talent would not be the issue. I don't think talent will be the issue whether we make the playoffs or not. Now the Super Bowl, there's some luck that comes with that, staying healthy and some other things. But talent will not be an issue to keep us out of the playoffs, no."
Joe will add that Tom Brady never has had a losing season, and he's had one season with 10 wins or less.
No pressure, Coach!