Rondé Barber: Tom Brady Will Change Culture And Restore O.J. Howard
March 19th, 2020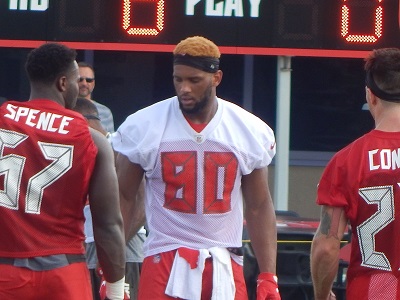 Man, Joe hears all the projections of incredible feats Tom Brady will accomplish with the Bucs, and Joe wonders whether Brady also can fix beach traffic and whoever is in charge of evaluating running backs at One Buc Palace.
Bucs legend Rondé Barber is 100 percent confident Brady can still lead a team to the Super Bowl, so he told CBS Sports Radio yesterday.
Joe presumes Barber was thinking of our beloved Bucs.
"Anybody that has seen Tom Brady practice knows what that does to a football team," Barber said, referencing his experience in two joint practices with Brady back in 2012.

""I think just that accountability raises the tide of everybody in an organization. I'm sure that's why Bruce Arians wanted this kind of guy to be his quarterback. He'll make Mike Evans be even better. He'll help Chris Godwin continue to develop as that slot receiver.

"And he'll help O.J. Howard kind of reach his potential. People here talk about O.J. Howard not being a good football player in the Tampa Bay area. I'm like, 'Are you kidding me? Have you seen the guy?' He just needs somebody to understand how to make him better. And I think that's what Tom Brady will do."
See what Joe means? O.J. Howard is on the team with the NFL's biggest coaching staff and legendary offensive minds, but he needs Brady to improve his game? Perhaps that's correct, but Joe won't give Howard a pass for taking a step backwards last season.
Barber went on to liken Brady in Tampa to Joe Montana turning around the Chiefs and Brett Favre injecting winning ways into the Vikings.
"It's a culture change," Barber said. "Everybody talks about culture change. Culture change can change with one player if that one player is as impactful as I think Tom Brady will be in Tampa."
Joe's counting on the culture change, too. As much as Joe loves the Bucs, there is no denying they have been prolific losers under Raheem Morris, Greg Schiano, Lovie Smith, Dirk Koetter and Bruce Arians.