Rondé Barber Explains Why The Bucs Gave Up On Jameis Winston
March 19th, 2020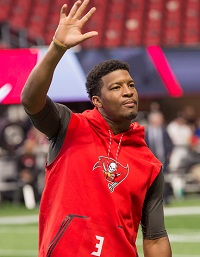 Bucs icon Rondé Barber may be the ultimate Buccaneers insider.
Close friends with Bruce Arians? Check.
A good friend of Jason Licht? Check.
Very tight with Team Glazer? Check.
Breaks down film for Buccaneers.com and the team's preseason TV team? Check.
And Barber covers Bucs games in-season for FOX, which gives him access to coaches, in addition to watching Bucs film while preparing for various broadcasts.
Yesterday, Barber was talking about former Bucs quarterback Jameis Winston and his demise in Tampa.
Simply stated, Barber explained that Jameis was not good enough.
"Let me dispel a myth. Bruce's no-risk-it, no-biscuit offense, it's not what you think it is," Barber told CBS Sports Radio. "Everybody thinks it's this air it out, throw it down the field, Bruce's offense is geared toward that 10-, 20-yard passing game. Carson Palmer excelled at that his last two years in Arizona. Jameis Winston, those same throws that I saw Carson Palmer make, [with Jameis] they were hitting the other team in the face.

"That's the problem. That was the problem with Jameis Winston. He would drop back, hit his back foot, let the ball go, and he knew he was right in his head in where the ball would go, and he mis-read the defense or they read his tendencies, and interception.

"… I do think he can be a franchise quarterback, but he's got to get around a team, especially a coordinator and a coach that are going to protect him from himself. I mean the guy likes to just sling it around, but his inability to protect the football I think is the major point here. …"

"That's what I mean by saying 'offensive coordinator.' And he had a first-time offensive coordinator in Byron Leftwich last year; it has to be a coordinator and a coach that's going to protect him from himself, and make it easier."
Barber went on to note Jameis' stats last year and his immense talent and production, but said the mistakes became too much for the Bucs to bear.
"Not only does he make throws that other people can't make, he makes throws that other people can't attempt," Barber said of Jameis. ""The guy has talent, but his inability to get out of his own way I think is what really facilitated them starting to look elsewhere for a quarterback."
As for Jameis' next stop, "his market is dry," Barber said.
"Part of the problem with Jameis is, he told everyone at the end of the season that he was looking for $30 million a year. Is he worth it from the positive? Is he worth it from the negative? Probably not for some of those teams? So he's going to have to wait. He'll end up somewhere. He's too talented a player to not be in the NFL."
Hearing all this, especially the chatter about Leftwich, it's easy to walk away thinking Jameis was a bad fit for Leftwich and the Arians system overall. And when the Bucs realized he regressed in late December, it was enough to launch him.