Phil Simms: Teddy & Jameis Together At Bucs QB
March 14th, 2020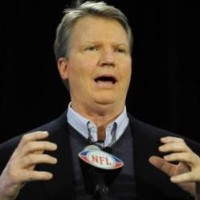 This take got Joe's head shaking back and forth, but considering who it's from, it's worth sharing.
Retired QB Phil Simms has a couple of Super Bowl rings and has been the top-dog game analyst at CBS Sports for many years. He's a passionate guy but never blowhard and he calls it quite straight when he's on radio interviews.
Simms was very relaxed this week on an NBC Sports podcast during a chat with his son, ex-Bucs QB Chris Simms, when the conversations moved to what the Bucs will do at quarterback.
The elder Simms believes the Bucs might be able to score Teddy Bridgewater in free agency and re-sign Jameis Winston at decent prices that would total like having one big-time quarterback and a good backup on the roster. ($37 million combined?)
Let them battle it out, Phil Simms said, and if the Jameis wins the job and the 2020 season unfolds for him like it did last year, then roll with Bridgewater.
Both father and son Simms don't see Bridgewater as a starter in demand around the league and don't think he fits Bruce Arians' offense whatsover.
Phil Simms went on to liken Bridgewater to Alex Smith. Jameis is a better fit for Tampa Bay, he said, before relaying a story about how a backup Arians quarterback once told him how mad Arians gets if you don't stand in the pocket and take a hit.
Joe found this all interesting, but Joe thinks it's totally farfetched because Arians genuinely believes and has said, "if you have two quarterbacks, you basically have none."