"It's Not Really Decision Making"
March 14th, 2020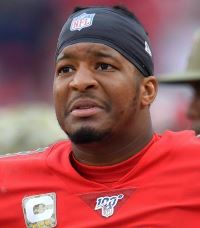 What primarily causes the inconsistency of America's Quarterback, Jameis Winston?
The common answer is decision-making, but that's inaccurate according to one film-studying former QB.
Joe is going back to another take by two-time Super Bowl champ and 15-year NFL veteran Phil Simms, who joined the Chris Simms Unbuttoned podcast on NBC Sports and chatted about the Bucs' gunslinger.
Phil Simms seems to think Jameis has mechanical issues that either haven't been fixed or are getting worse under the Bruce Arians regime.
"Much more mobile than he gets credit for, you know, can really move around. He's big. He likes to throw the football down the field, makes a lot of great throws," Phil Simms said of Jameis.

"But the problem with Jameis Winston is not really decision-making, it's the football gets away from him. I'd like to go over all his interceptions and see how many times he probably made a good decision but he overthrew the receiver. … To me, that's what holds him back. You can't lose the ball as an NFL quarterback, and lose control of it and miss a guy by throwing it four yards over his head; you can't do it four or five times a games.

"Listen, he is famous for it. I go, 'Man, he's hot today. He's hot, he's hot.' And all of a sudden go, 'Oh, my God. … The guy was wide open.'

"You know, you and I know, we study this stuff a little bit. There's reasons why he does lose control of the football.

Could he fix it now? I don't know. You gettin' to the point in his career, yeah, you could fix it, but it would take a lot of work to where he wouldn't lose control of the football that way. That's for sure."
It's worth noting the Bucs have said publicly that Jameis' mechanics improved in 2019.
Simms went on to say he believes the Bucs will re-sign Jameis and added that Jameis should take whatever deal that's offered. There's real hope, he added, because of Jameis' talent and him entering Year 2 within the offense.
Simms also firmly believes the Bucs-Tom Brady rumors are strictly about Bucs officials driving the price down on Jameis.