Peter King: London Sank Jameis, Who Became The Bucs' Third Choice
March 23rd, 2020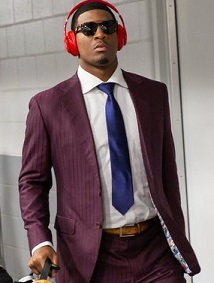 NBC Sports uber NFL insider and Hall of Fame voter Peter King was working his cell phone this week securing the Tom Brady story from the Bucs.
And of course, the Brady tale includes the Tampa Bay demise of America's Quarterback, Jameis Winston.
Per King, the Jameis era began unraveling October 13 in London, when the Bucs in Week 6 were mauled by a poor Panthers team and newbie QB Kyle Allen. Jameis threw five interceptions and had one of two fumbles recovered.
"After the London game, scouts got to work in earnest dissecting tape of any quarterbacks who might be available after the season," King wrote. "Teddy Bridgewater. Andy Dalton. Ryan Tannehill. Marcus Mariota. Philip Rivers. And Tom Brady. It's work they might have done anyway; the London game was a spur. The last two games gave the search immediacy, and the four QB-braintrust of offensive coaches (Arians, offensive coordinator Byron Leftwich, QB coach Clyde Christensen, offensive analyst Tom Moore) began their analyses after the season. Several commented that they'd never seen a market with this many starters available. That's because there never has been."
The Bucs studied the highs and lows of Jameis following the London debacle, as well as the rest of the quarterback market. King said they settled on a priority list at the position: Tom Brady, followed by Teddy Bridgewater and Jameis.
That's a different list peddled by TampaBay.com beat writer Rick Stroud, who is known for towing the Bucs company line. He had Rivers as the Bucs' No. 3 choice.
"Why Winston, still, at three? Because Arians loved him as a worker and competitor, and he had hope that he could be saved, and he knew the locker room loved him," King wrote. "Arians was still optimistic he could get Winston to buy into the art of the checkdown if they had to, and the teaching of Moore, who preached, "You never go broke putting money in the bank." But it was clear to those around the building that the Bucs needed to try to get Brady—and if it looked like a shot in the dark by the legal tampering period, then they'd move on to Bridgewater. They were optimistic they could get Bridgewater if they whiffed on Brady."
Hey, the Bucs had a plan and came out on top with an upgrade at the game's most important position. It's a happy story. Joe's just hoping it doesn't turn into a typical Bucs story.