"I'm Super Pumped To Be Back"
March 23rd, 2020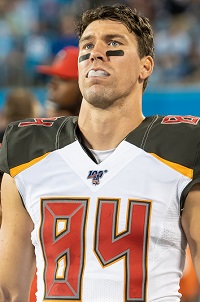 Joe never thought Cameron Brate would get cut this year, more likely traded, if the Bucs decided they didn't want to pay big money for a part-time but talented tight end who had battled multiple injuries.
Maybe that would have happened before the draft, or before final cuts in late August.
Brate had $4 million of his $6 million salary due to be guaranteed yesterday. He's still on the roster, but it appears he and the Bucs agreed to tweaks to his contract at the last minute.
Joe assumes Brate is no longer signed through the 2023 season, similar to what the Bucs did with former defensive tackle Beau Allen's contract before last season. There is no official word from the team.
Brate was in contact with FOX-13 sports reporter Kevin O'Donnell to let him know "I'm super pumped to be back."
You can watch that video below.
#Bucs tight end Cameron Brate sent me a response tonight about restructuring his contract with the Bucs. Archie just might be the best part of Cam's message. Thanks, Cam for your time during our tough times. pic.twitter.com/b5DMUkexNl

— Kevin ODonnell Fox13 (@ODonnellFox13) March 23, 2020