Melvin Gordon & Todd Gurley Are Off The Board; Bruce Arians Sticks To His Philosophy
March 20th, 2020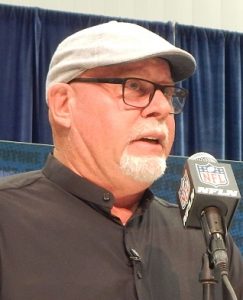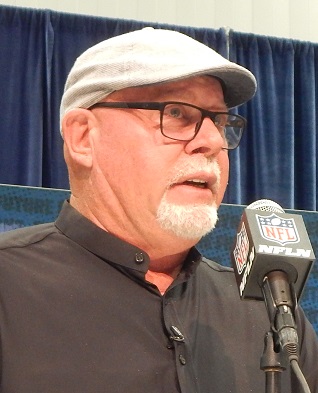 A percentage of Bucs fans are salivating at the thought of the Bucs adding a true No. 1 running back to complement the greatest quarterback in history and the NFL's best 1-2 punch at wide receiver.
(Is Tom Brady the greatest QB ever? That's a fun debate best suited for bars after social distancing is gone.)
So how will the Bucs approach fixing the running back position? Bucco Bruce Arians said at the NFL Scouting Combine that he was seeking a David Johnson-type. Well, Johnson himself was traded from Arizona to Houston.
Young, three-down Pro Bowl backs Melvin Gordon and Todd Gurley were on the market, but they were gobbled up. ProFootballTalk.com reported Gordon signed a two-year deal with the Broncos today for $16 million. Gurley is now in the NFC South on a one-year deal with the Atlanta Falcons.
This all made  Joe remember the words of Bucco Bruce Arians during his sitdown with the Ira Kaufman Podcast last summer.
Arians was talking about how the running back position was a pleasant surprise, talking about how much he likes the physicality of Peyton Barber, was impressed by Ronald Jones' spring explosiveness, along with healthy Andre Ellington and "solid" Dare Ogunbowale, who also had caught Arians' eye on special teams.
"I like our backfield. I think it's [an] ok backfield. There's not a David Johnson or a Todd Gurley. But you don't need one," Arians continued.
Joe replied. "We could buy one though, right, if we want to? If they're on the market?"
Arians' volume kicked up a notch. "I mean (sigh), I don't overpay for that position. David Johnson came in as a rookie, lit it on fire. You just got to find the right guys to fit what you want to do."
It seems like Arians is sticking to his philosophy. Man, what a wild scene it would be if the Bucs drafted a running back in Round 1 next month. If you're going all-in, you might as well get up on the high diving board.