Johnathan Joseph & The Bucs
March 13th, 2020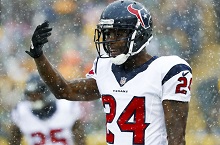 The Bucs can make a sound move in free agency right now if they want to.
Not only could they add a veteran cornerback faster than any on the current roster, the same guy has been to multiple Pro Bowls and playoff games — and he's no Brent Grimes 2018.
Johnathan Joseph was cut by the Texans on Thursday and he said today on SiriusXM NFL Radio that he still runs a 4.38-second, 40-yard dash. He ran a 4.31 at the 2006 NFL Scouting Combine.
Yeah, that's no typo on the year. Joseph turns 36 next month.
Joseph also said he loves to bust his ass, listen to coaches, teach young players, and he said he has played man defense every year since he entered the NFL. The main exception, Joseph said, was during a few years the Texans had a such an amazing pass rush that he could play off coverage and close early and fast.
Former Bucs rock star general manager Mark Dominik was a co-host talking to Joseph and likened his speed and longevity to Hall of Fame cornerback Darrell Green, who played 20 seasons for the Redskins.
Joe's not screaming for the Bucs to sign Joseph, but there is zero reason not to give him a look. Joe absolutely does not want the Bucs to gift the three key cornerback jobs to Sean Murphy-Bunting, Jamel Dean and Carlton Davis. Make them win those jobs.
Joseph has been extremely durable through his 14-year career, and last season he broke Rondé Barber's NFL record for most games (50) with more than one official pass defensed.
He also had one interception last year; Joe will give you one guess to name who threw it.