"I Want To Get A Ring"
March 6th, 2020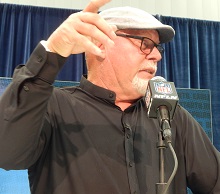 Bucco Bruce Arians answered a question many people have about him last week at the NFL Scouting Combine.
And he managed to give a straight answer and a vague one at the same time.
Arians found his way to the FOX Sports TV cameras and was asked point blank how long he wants to coach.
Bill Belichick turns 68 next month. Andy Reid has no desire to mail it in. Nick Saban turns 69 this year, and even quarterbacks have a very long shelf life these days, Arians was told.
"A ring. I want a ring. We get one; I want two. That's it. I want to get a ring," Arians said.
Joe believes Arians will stick around as head coach as long as he can keep his staff intact, unless he gets fired for consecutive losing seasons.
Arians has a firm belief and trust in Todd Bowles. And Byron Leftwich showed he was up for the playcalling gig, his first full NFL season in that role; Leftwich should improve in 2020. But if one of those guys bails, Joe could see Arians mailing it in because he's not looking for significant change, which would mean more stress on his plate.