"I Think Bridgewater's Going To Make Someone A Good Quarterback Coach"
March 9th, 2020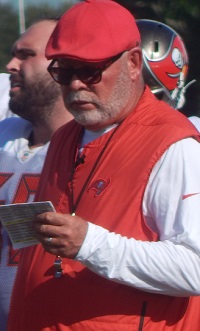 The Teddy train keeps rolling.
Joe's not sure where it's going, but a lot of football minds think Tampa is smart stop.
A guy who says he has been around Bridgewater, former NFL safety and longtime media guy Solomon Wilcots, talked Friday about how it shouldn't be underestimated how much players and coaches love Bridgewater. And that's critical to winning, he told SiriusXM NFL Radio.
"The players in that locker room have to believe, in order for you to win consistently, they've got to believe in the guy who's under center," Wilcots said in a discussion of Bridgewater being a fit for the Bucs.
He cited tough guy Mike Zimmer crying when Bridgewater got hurt in practice with the Vikings in late August of 2016, in addition to players' reactions to Bridgewater at other NFL stops.
Wilcots agreed with co-host Charlie Weis, who said Tom Brady, Philip Rivers and Teddy Bridgewater are ideal choices (in order) for the Bucs at quarterback in 2020.
"I think Bridgewater's going to make someone a good quarterback coach," Wilcots said.
Weis added that he got a tremendous recommendation on Bridgewater from his former Notre Dame player, two-time Pro Bowl Vikings tight end Kyle Rudolph. In addition, Weis said Bridgewater is ideal for Bruce Arians because he'll be the right balance.
"Don't make a bunch of mistakes; don't be afraid to sling it down the field, but don't make a bunch of mistakes," Weis said.
This all reminds Joe of how former Bucs tight end Anthony Becht went all-in on Bridgewater for the Bucs back in December. Becht works for the Jets and was around Bridgewater when he was there for the 2018 offseason and preseason.