Anthony Becht: Dump Jameis Sign Bridgewater
December 31st, 2019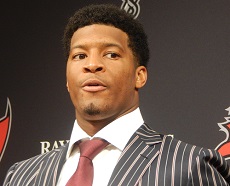 Teddy! Teddy! teh-DEE! teh-DEE!
You might hear that chant if you drive through the neighborhood of former Buccaneers tight end Anthony Becht.
Becht worked for the Buccaneers during several years of this decade when his playing career ended. You'd hear him on the Buccaneer Radio Network and see him on Buccaneers.com.
Becht, who played 11 seasons in the NFL, moved on a couple years ago to work for the New York Jets, in addition to his busy schedule as a game analyst calling college football games. But Becht still lives in town and keeps a close eye on the Bucs, as regular readers here know.
And Becht has seen enough of America's Quarterback, Jameis Winston.
He's done.
Too many mistakes from a hard-working veteran QB means it's time to find someone more efficient, Becht told WDAE radio yesterday.
"He's the hardest working quarterback that I've seen come through the doors of Tampa Bay, you know, in the last decade-plus. And he puts the work and the time in. The question is, "What's the problem?" Becht said.

"…I would rather see a quarterback throw for 3,500, 25 TDS and 10 interceptions. And I truly believe that this team would have won at least 10 games this season with that kind of output at the position. … "I think Teddy Bridgewater is the quarterback that this team needs to get them over the hump."
Don't get caught up in paying Jameis top-of-the-market money and use the cash to preserve key pieces on defense, Becht said, but his focus stayed on Bridgewater, the former Vikings starter and current Saints backup.
Becht liked what he saw and heard of Bridgewater during the 2018 offseason and preseason, in addition to what he did this year as a starter when Drew Brees was out.
"He's never been plagued with the turnovers and the situations that put your team in a bad spot," Becht said of Bridgewater. "[The Bucs] can get the quality plays they want out of this system with another guy."
There was more from Becht, but you get the point.
Becht also kept coming back to how Jameis works so hard but hasn't improved. So Becht doesn't want Jason Licht and Bucco Bruce Arians to get blinded by Jameis' potential and the great plays he makes.
Buckle up for an interesting offseason, Bucs Fans.\
---
🚨🚨NOW IS THE TIME TO BUY!!!🚨🚨
Our EPIC yearend sales event is going on NOW!! We have slashed the price of every car on our lot!👏👏👏 Come by Bill Currie Ford and leave in the car of your dreams!
5815 N Dale Mabry
Tampa FL 33614
813-872-5555#Tampa #BillCurrieFord pic.twitter.com/B3PIh0J6KS

— Bill Currie Ford (@BillCurrieTampa) December 30, 2019