Happy New (League) Year!
March 18th, 2020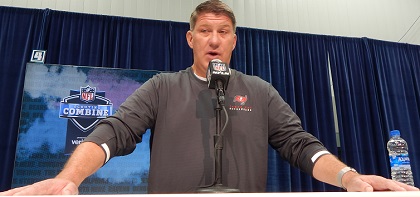 Happy 2020!
It is officially 2020 per the NFL calendar as the clock struck 4 p.m. EDT.
And so, who will the Bucs scurry to sign before having to pick through the leftovers? Joe know Bucs fans have their favorites to pick from.
Let your voice be seen in the comments below.
The free agency dinner bell has sounded!
[UPDATE: 4:18 p.m.] Joe is getting this question a lot today: When is Tom Brady's presser. Well, we don't know and technically, he isn't (yet) a Bucs quarterback.
Because of the coronavirus pandemic, the NFL has shut down NFL facilities. Players cannot fly in to take physicals. And until a player takes a physical, no deal is official.
Only the Bears have figured out a way around this (so far).
So if the Bucs come to an agreement with a free agent, you may not see it in a timely manner unless the player takes to social media, or the Bucs' social media team gets creative like the Bears.