Door No. 3: Andy Dalton?
March 16th, 2020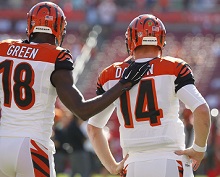 A seasoned, accomplished and astute student of AFC football has weighed in on what he thinks is a viable option for the Buccaneers at quarterback.
Joe doesn't agree with the take, but Joe can't ignore it when it's Phil Simms and he notes that he has watched every Bengals game of Dalton. Simms, of course, is the lead game analyst for CBS.
"I think Tampa, their backup plan that really fits them, to me, is Andy Dalton," Simms told his son's webcast, Chris Simms Unbuttoned,
"You know, he fits their offense. He's not afraid to throw it down the field. He's mobile, can move around enough to buy time when he needs it. And I think he's definitely an above average thrower in the league, and I think we saw a little of that last year. Cincinnati had no chance to win unless he was in the lineup. I know they just won one, but he gave them a chance to win quite a few games."
The problem with Dalton, other than the obvious, is that he's under contract and a trade would be required. As of noon today, the Bucs effectively will have no starting quarterback.
As Joe has noted previously, Dalton, 33, could be the kind of guy Bucco Bruce Arians falls in love with. He had a career winning record (including those playoff losses), and he's got a live arm and protects the football. Plus, Arians spent a lot of time in 2018 covering low-rung AFC games for CBS, which means watching many NFL films.