"A Move To The Championship"
March 25th, 2020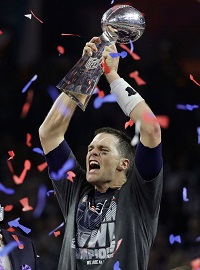 The Bucs are thinking big, big, big!
Big games are coming on big stages. And the Bucs will be led by a big star, Tampa Bay quarterback Tom Brady.
Bucs sacks legend Shaq Barrett was talking all about it on SiriusXM NFL Radio recently.
Joe's got highlights:
*Shaq played with Peyton Manning in Denver and said the electricity about to flow through Bucs training camp and games because of Brady's arrival will be eye-opening.
*Shaq on what he thought when he first learned of the Brady move: "A move to the championship.
*Playing against Brady? Shaq remembers it well. "He always seemed to make the play he needed to make," adding that he puts a lot of pressure on a defense.
*On the Bucs defense, Shaq is fired up about how it closed 2019. He said the unit was young with communication problems early in the season and the team "knew there would be a lot of late-game issues" and "we just figured it out."
*On Todd Bowles' greatness: "He knows what the underlying problem is, so he can just go to that instead of just going through layers and layers."
*On Bruce Arians: Praised him heavily for his "realistic expectations" of players.