"There's No Real Game Plan Against Him"
March 12th, 2020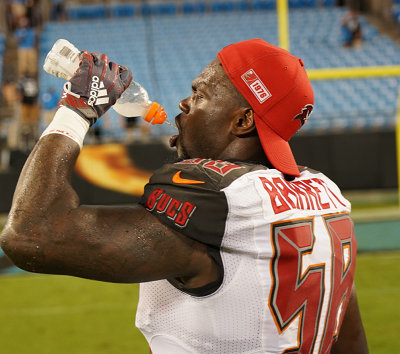 Last season, the 2-5 Buccaneers headed west to play the 6-2 Seattle Seahawks.
Russell Wilson remembered preparing for what was then a horrid Bucs defense.
Seattle rolled up 492 yards and beat the Bucs in overtime, but at least one Tampa Bay defender made an impression on Wilson before and after the game.
"Shaq Barrett's a beast all year," Wilson said. "I remember game-planning, trying to game plan against this guy. And there's no real game plan against him. This kid makes so may plays, one of the best in the league.
The quote comes from the Bucs' new The Current video at the team's official website and YouTube page. A team film crew at the Pro Bowl shared comments about the 19 1/2-sack Shaq from fellow Pro Bowlers.
Wilson is the kind of guy who says nice things, but when a guy like that talks about his film study, you know it's very serious praise.
In a matter of hours, the Bucs likely will be slapping the franchise tag on Shaq — and continuing to negotiate with him on a long term contract.
Joe sure hopes Shaq doesn't come down to earth too far next season; 11 sacks would be a let down, but that's not exactly fair to Shaq.
For those wondering, the NFL had 18 double-digit sack artists last season, and just 13 with 11 or more.